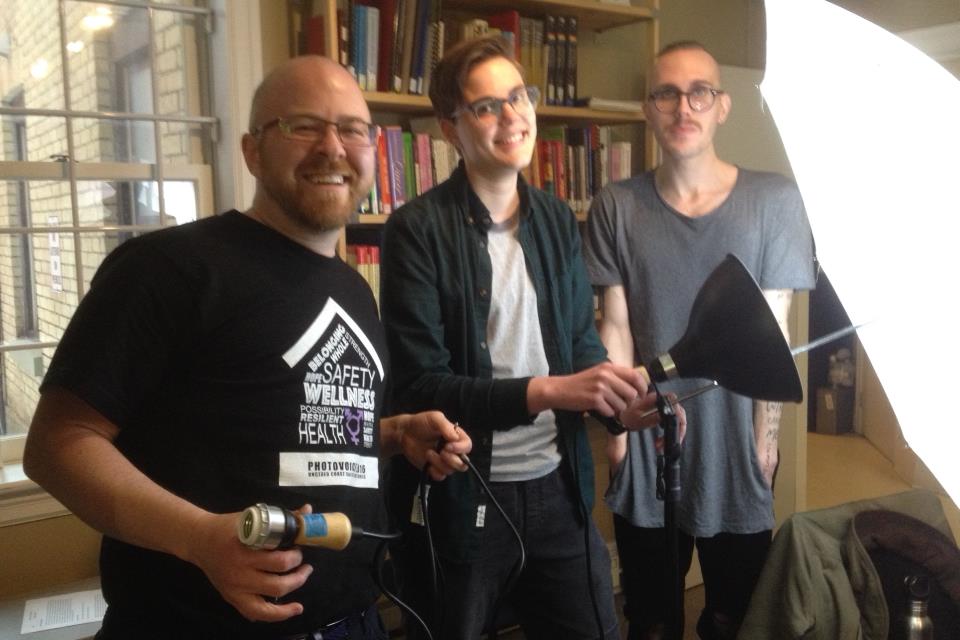 L-R: Nick Matte, Al Stanton-Hagan, Oli Bedard
*****************************************
It's exciting times at the LGBTQ Oral History Digital Collaboratory! We've recently purchased new equipment for our upcoming video oral history project and yesterday several members of our Toronto Collaboratory team met at the Canadian Lesbian and Gay Archives to explore and experiment with the equipment in preparation for our first interviews. We're working with the Canon VIXIA HFG20 Camcorder, portrait studio lighting, and lavalier microphones. Many thanks to the fine folks at Oral History in the Digital Age for their excellent and helpful technical resources – you can check some out here and here if you're curious to know more.
We'll be using the new equipment to interview people who were effected by or involved with the delisting of sex-reassignment-surgery from the Ontario Hospital Insurance Program (OHIP) in the late 1990s and the subsequent court cases and activism that ensued. The government's decision to stop funding this essential health care caused huge problems for many trans people, especially those who were already in "the surgery queue." The delisting took place in the broader context of fiscal cuts that targetted and effected many minority or vulnerable populations and now it can be used to demonstrate why and how trans people have needed or sought protection against discriminatory measures. Our oral history project will be an important space to document and hear from the people whose lives were most effected, and to ensure that we preserve these significant stories in trans history. Stay tuned for more details on this project; if you're interested in being interviewed, please send a message to nicholas.matte@utoronto.ca
Over the next few weeks we'll also be blogging about the recent Trans Temporalities Conference at the University of Toronto and providing updates on our various ongoing research, archiving, and digitization projects, so stay tuned for those as well!