I realize that even though the website has a fantastic collection of websites concerning LGBTQ oral history, put together by Cait McKinney, I have not actually had the time to go through them all, and reflect on what they offer. I'm in the process of putting together a new course on Queer and Trans Oral History, and this seems like a perfect moment to explore some of these sites and reflect on some of their capacities and limitations. Rather than proceed alphabetically, I've decided to move forward thematically. My first theme, therefore, will be "trans oral history," something I've spent a fair amount of time on myself. The first link I've accessed on my own page is already problematic: Access Minnesota Transgender History Project is, apparently, a link not to the project but instead to the Access Minnesota (a weekly news program) website's interview about the project. In this 2015 interview, the host discusses the project with Lisa Vecoli, curator of the Tretter Collection of GLBT Studies at the University of Minnesota's libraries, soon after the Tretter Collection received a grant to collect oral histories of trans people in the upper Midwest. Lisa describes the beginnings of the Tretter Collection, which began with activist Gene Tretter's major collection of LGBT materials and their donation to the University in 2000 (3,000 linear feet of material, a major collection). They have personal records; organization records; performers; authors; activists; published materials as well, including 16,000 issues of periodicals. Lisa is a very clear interviewee, providing excellent detail, even though her interviewer is so peculiar, at least to my ears. She's exceptionally well-prepared, using the interview as an opportunity to describe what the collections offer. Lisa describes how she's trying to create a more intersectional approach to the archives, which at the point of the interview in 2015, was mostly white and gay male. In response to student interest, she's trying to expand the archive to include more trans voices and stories, to use her terms. She submitted a grant to the Tawani Foundation, and it was successful: the goal is to collect 400 hours of oral histories about trans experience in the upper Midwest.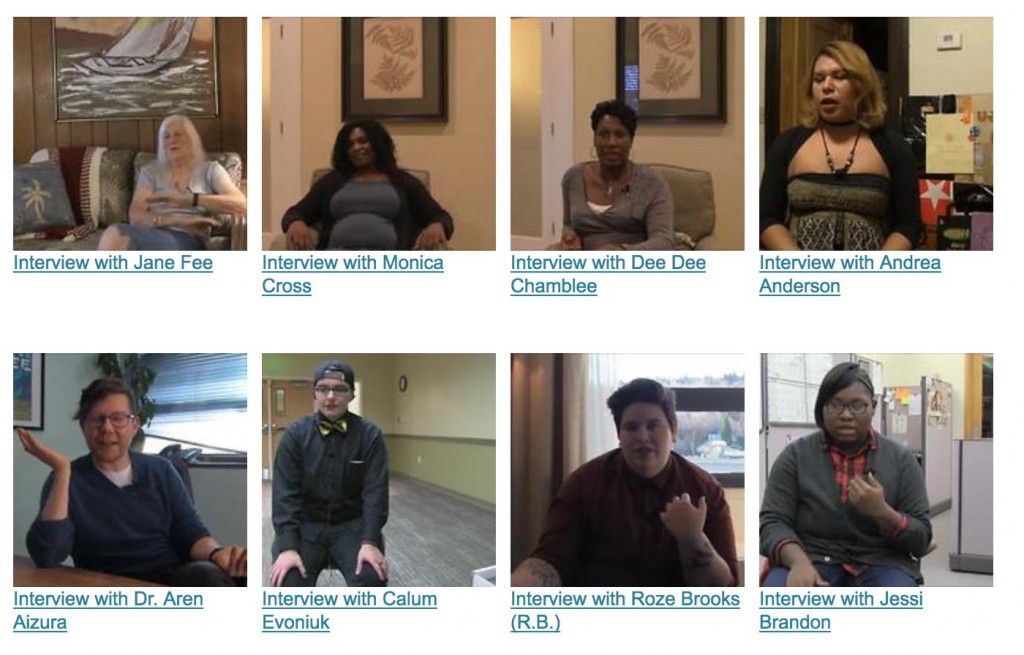 When we first put the Collaboratory website together, this important project had only a Facebook page—important for spreading the word about the project, and recruiting narrators, but not so helpful in terms of accessing the interviews. Now, in late 2017/early 2018, the interviews have been archived at the University of Minnesota's Media Archive. Currently, the site has 55 interviews available, some of them with well-known people such as Eli Clare, Kate Bornstein, and Dr. Walter Bockting. Most of the interviews are with upper Midwest folks who I've never heard of—not that it matters.
As some readers know, the main interviewer for this project is Andrea Jenkins, a black trans woman who is a poet and performance artist and, most recently in 2017, was elected to Minneapolis' City Council (the first black, openly trans woman to be elected to public office in the US). I attended one of Andrea's performances at the last Moving Trans History Forward conference in 2016, and was completely blown away. I tried to chat her up with a bit of fan girl action, but she was having none of it. I am sure she had more interesting people to spend time with there. Sigh.
Like the NYC Tran Oral History Project, a partnership with the NY Public Library, the interviews are presented on the site via tiles—a grid of trans people, photographed at the site of the interview (or perhaps they are video stills, taken from the interviews themselves.). I find this presentation of oral histories both compelling and creepy. Compelling, because the faces of all these trans people does solicit my viewing engagement, but creepy because the grid reproduces the logic of the taxonomic gaze, which is the last thing that a trans-positive project would want to reference. However, it's fair to say that most viewers wouldn't make this somewhat arcane critique, and having a visual representation of the narrators in an organized mode probably trumps all else. The interviews are listed by name of narrator, such as "Interview with Monica Cross"—the historian in me wants to know the date, right away, as part of the title. However, once one clicks on the interview, one is brought to the metadata page, where all this information is clearly available.
Each interview links to a video of the interview; a transcript in PDF; and to the interview metadata. In the interview with Dee Dee Chamblee, Andrea Jenkins in interviewing in Anderson Georgia. The sound is odd—Dee Dee has a lav mic on, but Andrea's sound is echoey, not via a lav mic. Even Dee Dee's sound seems muffled for some reason. Visually, Dee Dee is centered in the frame, rather than off to the side, in the 1/3 and 2/3 approach to framing the shot. The camera shot is also wide, in that the shot takes in quite a fair amount of extraneous material, such as the large door to her left; if it were me, I'd focus a bit more on Dee Dee, so that she'd fill up more of the frame. (Readers are probably wondering why I am focusing on all the technical stuff, but it's because I've been doing a lot of interviews for Family Camera Network, and so thinking about these things.) The sound is really quite bad…is it like this for other interviews, I wonder. (The interview with Jamison Green, done in 2016, has better sound). I'm reviewing an interview Andrea did with Jane Fee in St. Petersburg, FL. The framing is similar and the sound is also a bit problematic too. I wonder why, as the set up looks fine. Jane and Andrea are old friends; they've known each other for 25 years. Andrea starts the interview with an interesting question: what was Jane's earliest memory? Quite a compelling way to begin the interview, which is how (apparently) she's been starting many of them. This interview is 2 hrs and 39 minutes. I am 4 minutes into it, and already I am thinking about switching to another interview. Why in the world is this the case? What Jane is actually saying is quite interesting. Do I have 21st century ADHD, no longer able to sit through something so long unless it's highly produced? If this is the case, then what are we doing with these oral history projects?
I've looked at 3 interviews, and they are in different locations—Georgia, Florida, and Victoria, BC; clearly Andrea does these interviews as she travels. So what is the relationship to Minnesota and the Upper Midwest? Has the mission broadened from the original grant? This often happens. It would be a good thing for transgender history if she is interviewing more broadly.