As the Collaboratory works to connect LGBTQ digital histories projects across Canada and the U.S., our Collaborators share resources and expertise, and develop new methods in conversation. We invite you to meet our collaborating scholars – read on to learn more about some of the incredible work they have underway.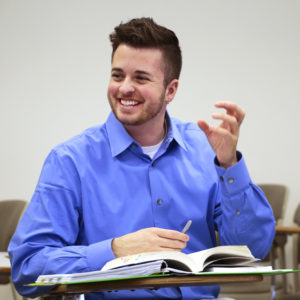 Dr. KJ Rawson (he/him/his) is an Associate Professor in the English Department at the College of the Holy Cross, and Director of the Digital Transgender Archive – a collaborative online hub of transgender history, including digitized historical materials, born-digital materials, and information on archival holdings throughout the world. His scholarship is at the intersections of rhetoric, LGBT studies, digital media, and feminist and queer theory. Keep up with the Digital Transgender Archive on Facebook, Twitter, and Instagram, and learn more about KJ at kjrawson.net.
Let's start with your name, pronouns, and honorific.
Dr. K.J. Rawson (he/him/his)
I'd love to know a bit about your thoughts on transgender archiving, as "both separate from and in conjunction with queer archiving." What has your work taught you about the benefits of both approaches? 
LGBTQ+ archival collections are rich treasure troves of materials and they are an excellent place to find transgender historical materials. The same is true for non-LGBTQ+ specific collections––university-based special collections, for example––where transgender history can be found in surprising amounts. I have also been quite interested by trans-specific archival initiatives that devote time and resources to trans materials in particular. Each context provides a rich environment for doing historical research in this area.

What are the challenges you've faced or observed working in conjunction with queer archiving and archives?
It can often be challenging to work with historical figures whose identities we don't or can't know given the differences in historical context and shifting understandings about gender and sexuality. My experience has been that archivists and researchers are quite well intentioned, but there are times when it's genuinely unclear how to best describe or understand historical figures and practices of gender.

A lot of collaborative models are emerging to connect oral histories and archives. Are there specific approaches/groups/communities/projects that you find especially compelling when it comes to collaboration?
To me, the most exciting thing about all of the trans oral history initiatives is the sheer quantity of them. We have a difficult time keeping up with all of the interviews that become available through all of our partners and we are always rushing to link out to them to make them more widely accessible.
What position does community and community engagement play in the work of the DTA?
The work of the project is constantly in conversation with community—from the students who work in our lab, to our advisory board, to content creators for the site, and all of our contributing archives. We are in contact with an even broader community through our social media channels, through presentations, and at various events that we attend throughout the world. One of the best parts of this work is getting feedback from people who are using and appreciating the site.

What are you interested in learning next?
Personally, I have been spending a lot of time working on the Homosaurus. The Homosaurus is an International LGBT Linked Data Vocabulary and I co-chair the editorial board for the project. It's been a great way to develop and improve a resource to make LGBTQ+ materials more discoverable in archives and libraries.