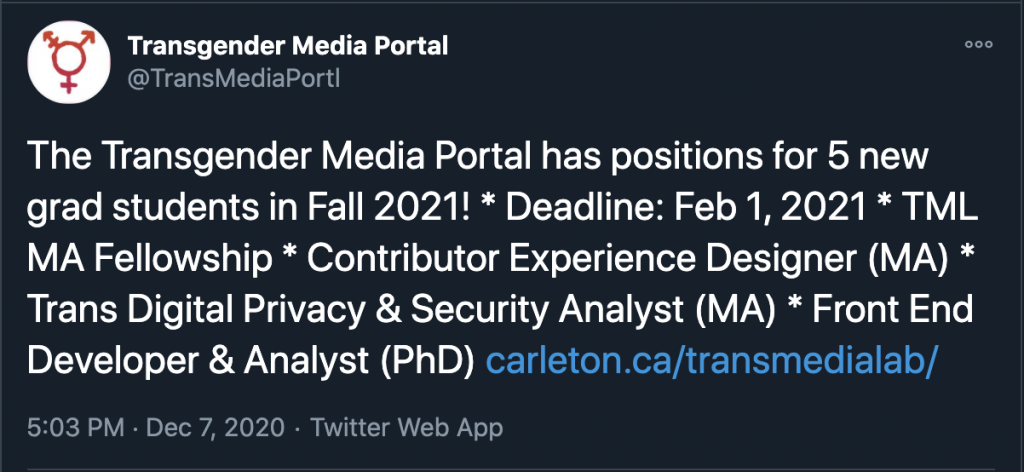 Join the Transgender Media Lab and Transgender Media Portal project in 2021!
Carleton University / University of Ottawa (Ottawa, ON, Canada)
These positions are open to students from any country. Some of the positions are also open to Ontario students who are already in graduate programs.The deadline is coming up soon—February 1.

The Transgender Media Lab (TML) at Carleton University investigates the aesthetic, political, and cultural work of audiovisual media created by transgender, Two Spirit, nonbinary, intersex, and gender-nonconforming filmmakers and artists. As part of that investigation, the lab is building the Transgender Media Portal, a collaborative digital tool that will enable new ways of analyzing these works and their circulation while making information about them available to trans arts communities and the public.This year we have 5 positions for new graduate students!
1.MA: Transgender Media Lab Fellowship (x 2!)
We are seeking two MA students to conduct original thesis research on some aspect of transgender, Two Spirit, nonbinary, intersex and/or gender-nonconforming film- and video-making in Canada or the United States and to contribute to the development of the Transgender Media Portal. Host program: Film Studies at Carleton University. For more info on this position see: https://carleton.ca/transmedialab/2020/tml-ma-fellowships/
2. MA: Contributor Experience DesignerWe are seeking an incoming MA student to lead the user experience and interface redesign for the Transgender Media Portal and to manage volunteer contributor outreach and training. We welcome applicants who are applying to these or other degree programs: Communication, Computer Science, Digital Transformation & Innovation, Feminist & Gender Studies, or Information Studies at the University of Ottawa. For more information on this position see: https://carleton.ca/…/contributor-experience-designer/
3. MA: Transgender Digital Privacy and Security AnalystWe are seeking an incoming MA student to design and analyze approaches to digital privacy and security for the Transgender Media Portal. Host program: Human-Computer Interaction at Carleton University. For more information on this position see: https://carleton.ca/…/2020/privacy-and-security-position/
4. PhD: Front End Developer & AnalystWe are seeking an incoming PhD student to lead front end development and analysis for the Transgender Media Portal. We welcome applicants who are applying to the following or other degree programs: Communication, Computer Science, Digital Transformation & Innovation, Feminist & Gender Studies, or Information Studies at the University of Ottawa, or Communication, Computer Science, Cultural Mediations, or Information Technology at Carleton University. For more information on this position see: https://carleton.ca/transmedialab/2020/developer-analyst/
These positions are run in collaboration with the Humanities Data Lab at the University of Ottawa and the Security and Privacy Interactions Research Lab at Carleton University. Questions? Feel free to reach out to TML director Laura Horak at laura.horak@carleton.ca