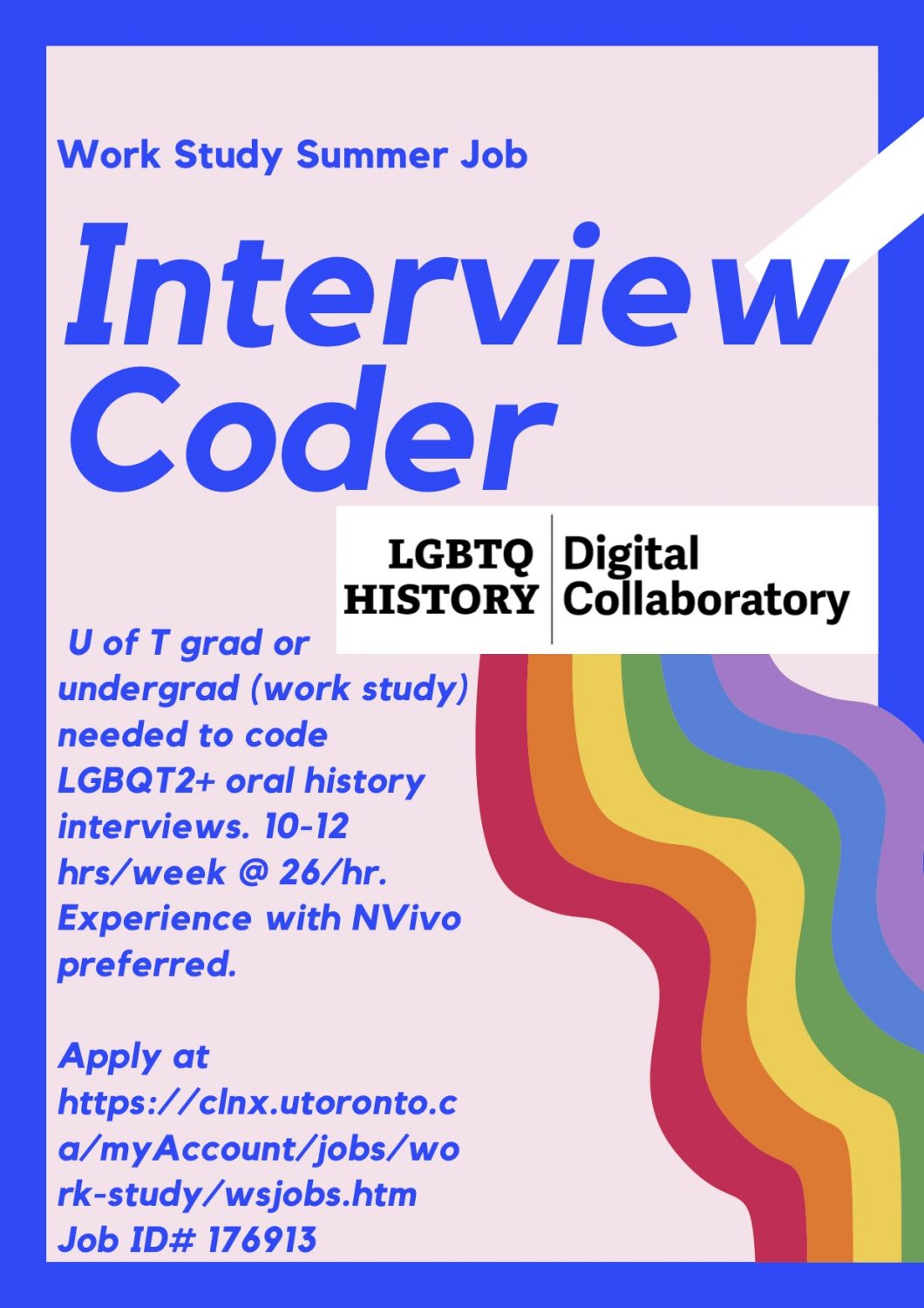 We seek a work-study eligible graduate student or advanced undergraduate student with experience in interview coding to code LGBQT2+ oral history interviews. The two oral history projects we're currently working on are the Trans Activism Oral History Project and the Pussy Palace Police Raid Oral History Project. Successful applicants will be contracted from Spring/Summer May 3, 2021 to Aug 6, 2021 (100 hours) at $26.00 per hour.
This is a work study position. To apply, you must be a University of Toronto student. See https://clnx.utoronto.ca/myAccount/jobs/work-study/aboutws.htm for more eligibility criteria.
Qualifications:
· Training in qualitative interview coding
· Excellent command of various interview transcription coding, and analysis tools such as NVivo; detail-oriented
· Excellent communication skills
· Familiarity with intersectional LGBTQ2+ studies preferred
· Excellent critical thinking, interpersonal, organizational, time management and prioritization skill
Responsibilities:
· Review video oral histories and Zoom transcripts
· Correct transcripts as need be while importing and import videos with the Zoom transcripts into NVivo for analysis
· Working with the team, develop a workflow for reviewing and coding themes in the interviews
· Visualize the themes via the software and/or Excel
· Look for emerging topics/areas of focus for research articles.
View the job posting for more information:https://clnx.utoronto.ca/myAccount/jobs/work-study/wsjobs.htm
View the LGBTQ Oral History Digital Collaboratory: http://lgbtqdigitalcollaboratory.org/
To apply, email a resume, cover letter and unofficial transcript to CLN; Job#176913 @ https://clnx.utoronto.ca/myAccount/jobs/work-study/wsjobs.htm by May 7, 2021. Questions may be directed to Elspeth Brown, elspeth.brown@utoronto.ca by email.